Welcome to TRAVELIO!
We produce unique journeys to Japan by offering the very best travel experiences for tours
catered to special interests, luxury tours, incentive tours, group tours, and more. Leave the
planning to us, and come explore the true splendor of Japan's rich history and culture,
as well as its exquisite modern comforts.
¡Bienvenidos a TRAVELIO!
Le preparamos viajes únicos a Japón al ofrecer las mejores experiencias de viaje,
viajes a su medida, viajes de lujo, viajes de incentivos, viajes en grupo y mucho más.
Déjenos la planificación a nosotros y venga a el verdadero esplendor de la rica historia y cultura de Japón,
así como sus exquisitas comodidades modernas.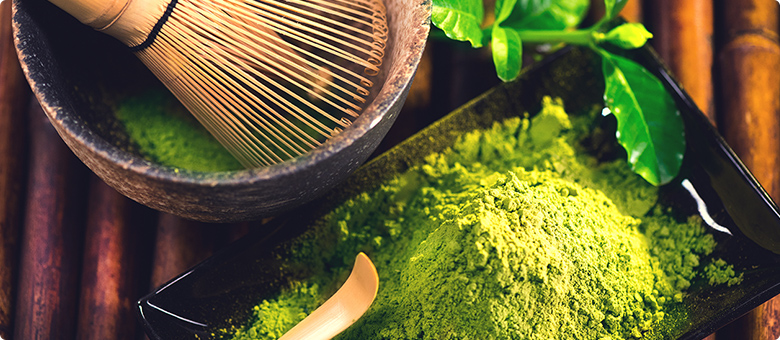 TRAVELIO is delighted to provide
TRAVELIO se complace en ofrecer
Finest Cuisine Experience
One of the biggest reasons to travel to Japan is for the food.
From the Michelin-star-winning restaurants to traditional Japapnese
Kaiseki-style dining with its long history, TRAVELIO promises to fill your stay in Japan with unforgettable gustatory experiences by providing only the finest quality cuisine that is tailored to your tastes.
Furthermore, Members-only exclusive restaurant or Ryokan (Splendid Japanese-style inns which serve the finest Japanese cuisine) can be also arranged for your unforgettable time.
La mejor experiencia gastronómica
Una de las principales razones para viajar a Japón es la comida.
Desde los restaurantes galardonados con estrellas Michelin hasta las cenas tradicionales japonesas al estilo Kaiseki con su larga historia, TRAVELIO promete llenar su estancia en Japón con experiencias gastronómicas inolvidables al brindarle siempre la mejor cocina de calidad adaptada a sus gustos.
Además, también le podemos organizar desde un restaurante exclusivo solo para miembros hasta un ryokan (espléndidas posadas de estilo japonés que sirven la mejor cocina tradicional japonesa) para que su estancia sea inolvidable.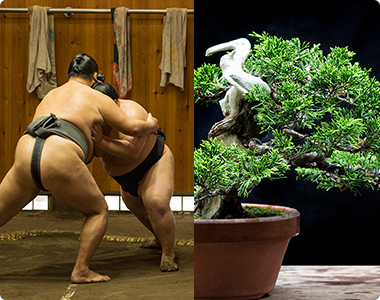 Traditional Cultural Activities
Have you ever wanted to watch the morning practice of a stable Sumo wrestlers, and the mingle with them over a steaming pot of chanko nabe?
Or, how about stay overnight at a temple and learning about "Zen" while eating Shojin ryori (vegetarian cuisine eaten by monks)?
We can arrange for these and a variety of other traditional activities such as bonsai cultivation, tea ceremony, etc.
Actividades culturales tradicionales
¿Alguna vez ha querido ver la rutina matinal de un luchador de sumo y mezclarse con ellos frente a una olla humeante de Chanko Nabe?
O, ¿qué tal pasar la noche en un templo budista y aprender sobre la meditación "Zen" mientras se come un plato de Shojin Ryori (la auténtica cocina vegetariana que comen los monjes)?
Podemos organizarle éstas y una variedad sinfín de actividades tradicionales como el cultivo de bonsáis, la ceremonia del té, etc.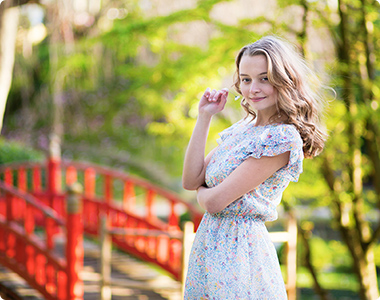 Vacation Photography
Book an amazing professional photographer for your next trip in Japan.
The sight of yourself in awe at a profoundly beautiful sight.
The happy look on your face when tasting delicious foods.
We can arrange the professional photographers to take picture of such dramatic moments and delightful sensations for you to keep as permanent keepsakes of an incredible and unforgettable trip.
-You can choose your perfect shooting location.
-We contract professioal photographers who are based in Japan to accompany you.
-All of our photographers can speak English.
Fotografía en vacaciones
Reserve un increíble fotógrafo profesional para su próximo viaje a Japón.
Asómbrese de verse a si mismo ante una vista inmensamente hermosa.
La expresión de felicidad en su rostro al degustar deliciosas comidas.
Haremos que fotógrafos profesionales capten en las fotografías sus mejores momentos, aquellos llenos de placer y felicidad que le dejarán un recuerdo permanente de su inolvidable viaje.
- El fotógrafo elegirá la ubicación perfecta para sacar sus fotos.
- Contrataremos a fotógrafos profesionales de Japón para que lo acompañen.
- Todos nuestros fotógrafos hablan inglés.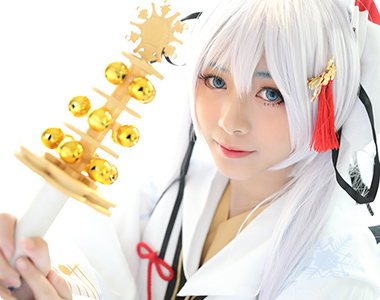 Anime Appreciation Tours
If you're a fan of Japanese anime and manga, choose TRAVELIO and let us arrange the perfect itinerary for you.
We offer a variety of special plans that will allow you to experience many places based around the famous works from the world of Japanese animation.
Furthermore, TOEI Animation Museum is a must-see spot to visit for animation lovers.
If you are interested in attending a convention such as AnimeJapan, we can make all the necessary arrangements on your behalf.
Anime tours
Si es muy fan del anime y del manga japoneses, elija TRAVELIO y permítanos organizar el itinerario perfecto para usted.
Ofrecemos una gran variedad de planes especiales que le permitirán experimentar muchos de los lugares en los que se basan las más famosas obras del mundo de la animación japonesa.
Además, el Museo de Animación TOEI es un lugar de visita obligada para los amantes de la animación.
Si está interesado en asistir a una convención como AnimeJapan podemos hacer todas las gestiones necesarias en su nombre.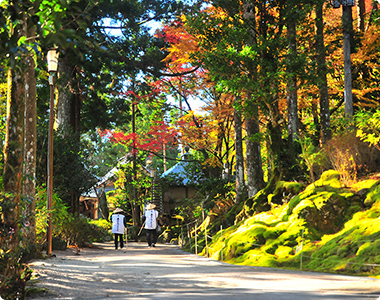 © Tokushima Prefecture Tourism Association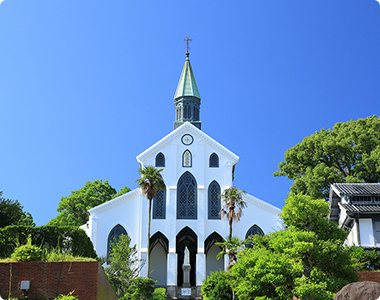 © NPTA * Approved by Archdiocese of Nagasaki
Pilgrimages - Visit sacred places
The Hidden Christian Sites in the Nagasaki Region were designated as a World Heritage Site in 2018.
Our experts will arrange the original itinerary including Nagasaki for the Christian Sites and guide you to the path of bliss.
Nagasaki is home to one of Japan's most prominent Chinatowns which coexists with the Catholic churches and the Western-style residences of the wealthy foreign traders and diplomats.
Besides Nagasaki city, there are many attractive sites with plenty of impressive Catholic churches to complete your own Pilgrimage experience.
Elsewhere, the Shikoku Ohenro pilgrimage is one of the world's oldest and longest spiritual pilgrimage trails. On it, you'll pass through 88 temples and numerous other sacred sites.
Finally, you can sojourn to the Kumano Kodo, a criss-crossing network of ancient pilgrimage trails across the sacred site of the Kii Hanto, the largest Penisula in Japan.
Peregrinaje - Los lugares sagrados
Los "sitios de los cristianos ocultos" en la región de Nagasaki fueron declarados Patrimonio de la Humanidad en 2018. Nuestros expertos le organizarán el itinerario original de los doce sitios de los cristianos ocultos de Nagasaki y le descubrirán la historia de los primeros misioneros cristianos.
Nagasaki es la cuna de uno de los barrios chinos más antiguos y grandes de Japón, que coexiste con las iglesias católicas y las residencias de estilo occidental de los ricos comerciantes y diplomáticos extranjeros. Además de la ciudad de Nagasaki, en esta región hay muchos lugares atractivos con impresionantes iglesias católicas para completar su propia experiencia de peregrinación.
Otra ruta destacable es la peregrinación de Shikoku Henro o "Camino de Shikoku" que es una de las rutas de peregrinación espiritual más antigua y larga del mundo. En él pasará por 88 templos y muchos otros lugares sagrados.
Finalmente, puede de Kumano Kodo o "Camino de Kumano", una extensa red entrecruzada de antiguos senderos de peregrinación a través del sitio sagrado de Kii Hanto, la Península más grande de Japón.
We employ on the finest travel experts,
all of whom have:
Decades experience in the travel industry.
Plenty of experience in planning stays at luxury hotels and other elements of high-end travel.
Commitment to providing sophisticated recommendations, personalized service for all sorts of cilentele.
Our most knowledgebale staff are eager to introduce you to the wonders of Japan!
Contamos con los mejores expertos en viajes,
todos tienen:
Décadas de experiencia en la indústria de los viajes.
Un profundo conocimiento en la planificación de estancias en hoteles de lujo y de cualquier tipo de servicio de alto nivel.
El compromiso de ofrecer recomendaciones a la medida de cada cliente y un servicio personalizado para todo tipo de cilentes.
¡Nuestro personal más experto está ansioso por presentarle las maravillas de Japón!